Lansing Knights Youth Organization
The Lansing Knights Youth Organization is a non-profit organization located in Northeast Philadelphia, whose purpose is to promote good citizenship and leadership qualities in the youth of our community, through example and adult supervision. We feel this aim can best be served by encouraging athletic participation in an organized, youth oriented sports program. We invite each parent to join the total effort. There is a place for all members who believe our motto "Yours in youth".
Fall Soccer Registration

Thursday Nights 6:30 – 8:00pm from July 9th thru August 20nd

Saturday Mornings – 10:00am – Noon July 11th thru August 22nd

In-House Ages 3/4, 5/6 & 7/8  $60.00 per child

To Inquire about Travel Soccer registration please email: info@lansingknights.com

St. Joseph's Hawks Soccer Camp at Lansing

July 20TH – July 24TH – 5:00 – 8:00PM

Congratulations to Coach Keith Rambo
Congratulations Lansing Boys Soccer Coach Keith Rambo on receiving the Dan Shissler Soccer Coach of the Year award.  He was presented with this honor on Tuesday Feb. 2nd at the Philadelphia Department of Rec. 2014 Fall soccer awards banquet held at Canssttaters.    Keith Rambo – Dan Shissler Soccer Coach of the Year Award Recipient.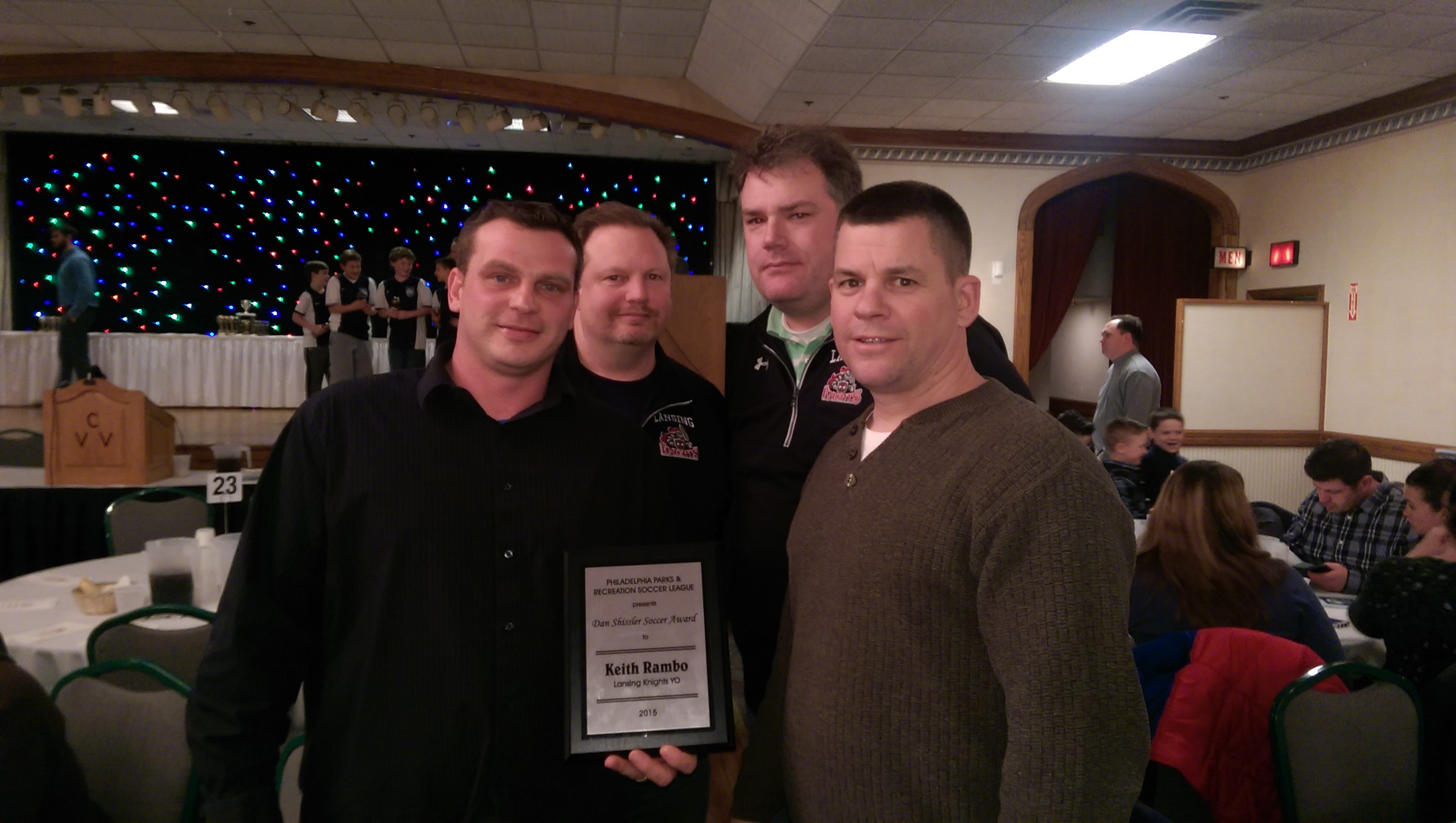 ON-SITE

REGISTRATION

If you can't sign up online, we will have on-site registration available.
ONLINE
REGISTRATION
We are extremely happy to announce that we are now able to offer registration online.  There will be a convenience fee of $5 for online registration but you will be able to do this any time!! :: Register Online
Code of Conduct
The goal of the Lansing Knights Youth Organization ("LKYO") in particular and youth sports in general is for all the children to have fun.  We, the Board of Directors of The LKYO wish for all the children to learn sportsmanship, improve their skills, make new friends, and strive to be the best that they can be.  The LKYO has a responsibility to achieve these things in a safe, youth friendly environment.  This Code of Conduct is the agreement between the parents, players and coaches.  This document is the essence of our goals and objectives and thus, adherence to it is of primary importance.   :: Read More